I made this week my three years old template editor to be Scanahand 3 compatible. The editor is
here
.
And it's result
here
.
I made own editor because Scanahand's original templates have only a little sample letter in caption, so it's hard to imagine where to draw letter vertically and in what size (particularly when drawing diacritical marks and letters of unknown languages: hebrew, thai etc.
Please compare Scanahand original template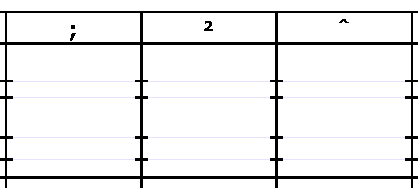 to my own template:
When using native templates, there is risk to draw in wrong position or size and there is then need to correct them afterwards. In my own version it's easy to draw in right place and position and surely right character, because the name of character (eg. semicolon, twosuperior) is printed on the caption. BUT in my version there is risk that drawer is going to copy sample letters and not do own handwriting.
As you know, normally the font is made by Scanahand this way:
1) The readymade template is printed or new own one is made (character selection, grid size etc.)
2) Characters are drawn on cells of template.
3) Filled template pages are scanned to Scanahand or first to files, if corrections needed.
4) The name of font is given and then font is generated.
When using my template editor, in phase 1 user selects also font and color of sample char. And because we are talking about customized template, we have to input some basic information and this is done using xml data that is printed on the last page of PDF template file.
In my editor the default is 527 character's template for general European use. The template covers ISO 8859 charset almost fully, covering the following 47 languages:
Afrikaans, Albanian, Belarusian, Bosnian, Breton, Bulgarian, Catalan, Croatian, Czech, Danish, Dutch, English, Esperanto, Estonian, Faeroese, Finnish, French, Gaelic, German, Greek, Greenlandic, Hungarian, Icelandic, Indonesian, Irish, Irish Gaelic, Italian, Latvian, Lithuanian, Macedonian, Maltese, Norwegian, Polish, Portuguese, Rhaeto Romanic, Romanian, Russian, Sami, Scottish Gaelic, Serbian, Slovak, Slovene, Spanish, Swahili, Swedish, Turkish and Ukrainian. And here is the default template:
General European template
I removed arabic, hebrew and thai, but they can be included if needed. In my editor the arabic letters can be retrieved
here
, where all chars from Characters field can be copied to clipboard ...
... and pasted on
General European template's
Characters field.
Because my editor (as well as Scanahand's native editor) removes duplicates, we get
new template
, where the Arabic charset is combined with General European charset.
Each and every Scanahand user knows the Scanahand's native
216 char's template for Western European usage
covering
English, German, French, Dutch, Italian, Danish, Finnish, Swedish, Norwegian, Spanish, Portuguese, Basque, Estonian, Faeroese, Frisian, Irish, Galician, Hungarian, Icelandic, Albanian, and Esperanto.
If you are sure that English, Swedish and Finnish is enough, then use
customized one page template
(but I don't recommend this, because texts have now and then acsents and other diacritical marks). There are at least easy to print and try drawing glyphs.
This own editor was rather easy to implement and I hope that Scanahand will implement it in some future release.
The problem that arised (and is not yet corrected) is situration where count of columns is high and count rows is low (eg. 10 columns, 3 rows). In this situation the sample letters become too wide and run on adjacent cells. This is not big problem, because 10x3 grid usually insane.